Project Lit and the SOAR Book Club
Students use the research center in the library for robotics class. The research center is open to students during library hours when not in use by a class.

Spanish and English books

Collaboration with the Diversify our Narrative club
Research databases for student use
Maker Mondays (STEM-based projects)
Brain break activities: themed coloring pages, chalk table, Fitdesk bikes
Digital eBook collection (SORA app in MyHumble)
StickTogether collaborative art mosaic projects
Foosball table, Lego wall, and PlayStation 2 (available on Fridays)*
Staff book club
Weekly book recommendations
SOAR (Step Out And Read!) Book Club (with ProjectLit)
* Activities are subject to change due to COVID-19, hopefully available again soon
These are some of the activities that the library offers. Mrs. Kelly McClain and Mrs. Debbie Sewell, the librarians, work hard to incorporate all students in the environment of the school library in different ways. One such incorporation is the SOAR Book Club, which is a student book club that has joined with ProjectLit to diversify the book content in school libraries. In collaboration with Mrs. Brianne Kalkman and the RELA department, the SOAR Book Club has begun reading a new ProjectLit book every nine weeks as their reading material.
"When I first applied to be a part of ProjectLIT, I felt as though many of the books we were reading at the time did not properly reflect that diversity," Mrs. Kalkman said. "Studies have shown that reading diverse books creates more empathetic people because it allows the reader to relate to that character's experiences. Every student deserves to see themselves reflected in the literature they read, and every student needs to grow by reading about experiences outside of their own."
The books included in the ProjectLit list are recently written and introduce and discuss many current worldviews.
"The beauty of ProjectLIT is that there is something for everyone," Mrs. Kalkman said. "We have books with Black characters, Filipino characters, Muslim characters, LGBTQIA+ characters, etc. There are fantasy books, historical fiction books, realistic fiction books, romance books… you name it and there is probably a book on this list about it!"
This diverse reading has led to deep discussions and conversations within the Book Club.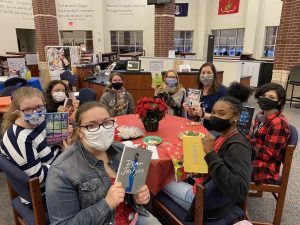 "Our students love seeing themselves in these books as well as learning about other cultures, religions and genders," Mrs. Sewell said. "It is so exciting when students enjoy and can make real connections to what they are reading."
Students in the SOAR Book Club enjoy reading about different worldviews and discussing them together.
"I just joined this year because of scheduling conflicts but I have been reading the books independently since freshman year," Sophomore Emily Hill said. "I like the environment that it fosters. A lot of kind, intelligent people have joined the club. I also like that as a group we can bond over our shared experience and take the same life lessons from the literature."
The SOAR Book Club can be joined at Flight School, in the library, or by emailing either of the school librarians at: [email protected] or [email protected].
"We get snacks! Big bonus," Hill said. "And also the librarians have done an excellent job listening to how the students want to see diversity and what we want to read. Their work is truly amazing."
The library is a place of entertainment, education, and diverse literature that is fostered by librarians Mrs. Kelly McClain and Mrs. Debbie Sewell. In collaboration with ProjectLit, the SOAR Book Club helps to promote diverse literature and thinking within the high school environment. The library is open from 6:45 -3:00 and on late arrival days at 9:00.
STORY WRITTEN FOR 2020/2021 SCHOOL YEAR, ACTIVITIES MAY HAVE CHANGED
Leave a Comment