Entrepreneurs of Atascocita
Some students have jobs and work hard for money. Some volunteer. Some work on schoolwork or on improving their relationships with people. Others develop their hobbies. There is another group of people who work hard, sometimes using what they love for all purposes. These are entrepreneurs. 
The Mirriam-Webster definition of an entrepreneur is "one who organizes, manages, and assumes the risks of a business or enterprise." This highlights the boldness and skill needed to start and run a business. Two students have done just this.
Brynn Maute- Brynn Art Studios
Senior Brynn Maute started Brynn Art Studios about a year ago. She sells art in the form of paintings, drawings, and custom painted shoes. 
"I've been inspired by other art businesses," Maute said. "I've always loved drawing so I thought it would be nice to provide other people with my art."
Maute hopes to donate some of the money she earns to charities and also has plans for the future of her business.
"I plan on continuing it for the rest of my life," Maute said. "It is what I love to do, so I would like to make and sell art for a long while."
Maute hopes her business will expand, as well as the products she sells. She hopes her business will be well known and successful.
You can purchase art from Maute on her Instagram at brynn_artstudios.
Hailey Fields- Hailey Kisses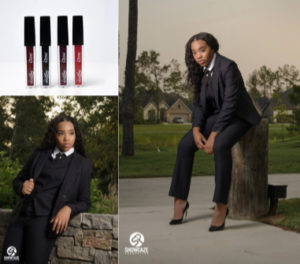 Senior Hailey Fields started her business Hailey Kisses, a cosmetic lip line, five years ago. She sells lip glosses of different varieties.
"The story behind me starting my business is one day I was at the doctor and they told me I would only be 5'2 – I'm actually 5'7 now," Fields said. "I've been modeling and acting since the age of four and five. Most runway models are 5'10 and taller, so I wanted to come up with a backup plan for my future, knowing that I will not be tall enough to model."
Fields has been in New York Fashion Week, has modeled all over the East Coast, was in the movie "Free State of Jones" featuring Matthew McConaughey, numerous NCIS New Orleans TV shows, and Brighthouse commercials, and was a print model for Academy Sports and Outdoor.
"I came up with owning my own makeup business because in modeling and acting I get my make-up done all the time and I love makeup," Fields said. "My mom told me to just focus on an aspect of makeup, and I came up with lip gloss and lipstick."
She found a manufacturer to produce the products and has continued her business. She hopes to go to college for business so she can expand her makeup line and have multiple income streams. 
"My business is helping people by providing people with products that are good food for their lips while also letting them show off their personality with my variety of colors on my line," Fields said. "My business is helping me by showing me how to run a business at a young age so when I'm older I'm already ahead of the game."
You can find more information about Hailey Kisses at her website haileykisses.com.
Leave a Comment