Atascocita's Got Talent
Alumni makes final 55 acts on AGT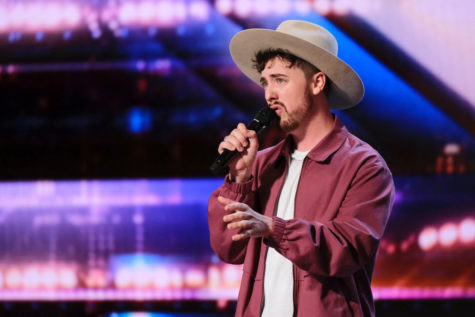 Former choir student, Bay Turner, auditioned for America's Got Talent (AGT) in August. Standing in front of Simon Cowell, Sofia Vergara, Heidi Klum and Howie Mandel, Turner performed the song "Biblical" by Calum Scott. In collaboration with his AGT producer, they agreed that "Biblical" was the best fit for his voice and it represented his personality well.
"AGT is the greatest stage in the world," Turner said. "Some of entertainments' biggest names got their start on that stage, and I was determined to get my shot."
Making it onto AGT was no easy feat for Turner. Around the time COVID-19 hit, two benign tumors were found in his chest and he had to undergo surgery to get them removed. What was supposed to be a routine procedure turned into Turner's worst nightmare. His anesthesiologist nicked his vocal cords and left them paralyzed. He had to work relentlessly with voice teachers to get his voice back to the shape it used to be in. 
"I think when life gets you down you just have to pull up your bootstraps and just figure it out and keep going," Turner said. "So, that's what I did."
The AGT judges were amazed by Turner's singing ability. They had nothing but nice things to say about him. Cowell, who is known to be especially critical of performances, was thoroughly impressed. He ended up getting four "yeses" from the judges and advanced to the next round.
"Your voice has such a range to hit those high notes like that," Mandel said. "We don't only hear you singing, we can feel you singing."
Turner has always been passionate about singing and participated in choir throughout his middle school and high school years. He had a strong tenor voice and participated in many talent shows. Turner was in A Cappella and Madrigals in high school.
"He was always very positive and excited about music," choir teacher Samantha Nalundasan said. "He was encouraging, and he was always nice to be around."
Even in high school, Turner had dreams of making it big in the music world. Especially in an industry where it's difficult to come out on top, he always had the patience and persistence to keep going. Turner's middle school choir teacher, Amanda Robison, was blown away by his AGT performance. She was proud to have helped nurture his talent when he was younger.
 "His technique was en pointe, and his performance was so musical and emotional," Robison said. "To me, that is the perfect performance. I know that he will be successful with his music career because of his talent and drive."
These days, Turner continues to perfect his musical craft. He wrote and released a new single titled "My Testimony." Amazingly enough, Calum Scott, the artist of the song he sang on AGT, saw Turner's performance and invited him to come on stage and perform with him. Turner just moved to Nashville after signing a publication deal. He is looking forward to releasing his own music and touring the world.
"I am beyond grateful for my time at AHS," Turner said. "The support from my peers and my teachers both during my time there and post graduation has been paramount to my success. GO EAGLES!"
Leave a Comment