The journey of the AVID program at our school has been a rocky one in recent years. A different teacher has taken on the role for the past four years. However, Sarah Mayhall, the new face of the program, has goals to ensure AVID's stability.
"The first thing I'm focused on is meeting my classes where they are and seeing what they need within the AVID guidelines. There is a curriculum for AVID which should be followed to produce ideal results," Mayhall said. "I think there have definitely been misconceptions regarding AVID. This is not a blow off class. It is a program and a mindset."
AVID was formerly led by Alex Mulla, who stepped down from the position this year.
"I did not want to move on from AVID, but I had just finished my Bachelor's Degree in Math Education, and I needed to get my certification to teach," Mulla said. "In order to do that, I have to teach a year in the subject I am getting my certification in, which is math."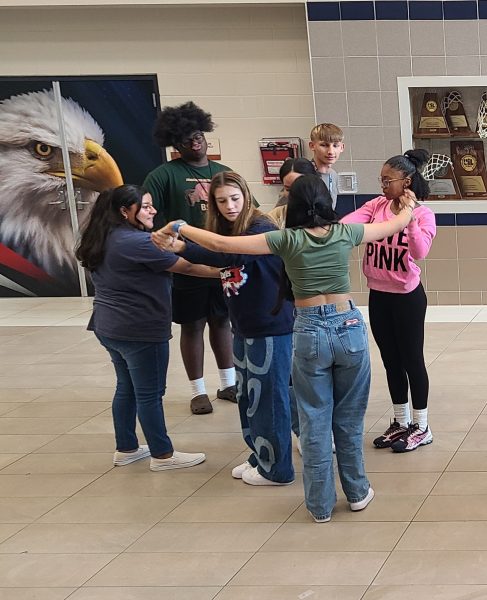 Due to Mulla's reluctant leave, a new opportunity presented itself for Mayhall, who had never considered the possibility of leaving her AP U.S. History (APUSH)bubble. But after restless nights contemplating the idea, Mayhall knew this was something she needed to do.
"I couldn't stop thinking about AVID. I kept thinking about how I would regret not going after the position and how upset I would be to see someone else in that role," Mayhall said. "I teach my students to be brave and do difficult things, and I felt the need to practice what I was preaching. I feel honored to be able to work with the AVID program and—more importantly—with the students and their families."
Mayhall currently teaches AVID by grade level and is the AVID site coordinator with the district. This year, she has been presented with new challenges and responsibilities.
"With APUSH, I was never stagnant. I always had a STAAR exam or an AP test to prepare my students for," Mayhall said. "Now, my 'test' at the end of the year deals more with building relationship capacity, teaching soft skills and organization and emphasizing college and career readiness."
Typically, AVID consists of many projects that are meant to assist students with real world applications. Last year, Mulla had seniors create a budget on how much things would cost in college, had them complete the FAFSA and sign up for scholarships and would assist them with their college essays. Twice a week, they did tutorials in class where college students helped students with their applications in small groups.
"I wanted to make sure I was giving them opportunities to express their individuality and learn material that will help them in college and their careers," Mulla said.
AVID also has a more hands on approach to it that encourages students to become more involved on campus. 
"I wanted them to be involved in their community, so we did campus beautification once a month where students picked up trash inside and outside of the school," Mulla said. "I also created a volunteer opportunity where students participated in a beach cleanup. Also, my junior AVID students went to the middle schools to discuss AVID in high school."
In the past, AVID has run into obstacles. Mulla said that many teachers and students did not know what AVID was so she did not have as much support as she wished. As a result, finding access to a reliable source of transportation to visit universities was much more difficult.
"Because I was only a long term sub, I did not know what things I had access to and I had to go through so many people to get things done," Mulla said. "The changes that I hope will be made to improve the AVID program this year is more staff involvement."
Positive changes have already begun to take place, as Associate Principal Courtney Peterson and Principal Will Falker were both very supportive in finding AVID a classroom. They were previously housed in the Red LGI. Although Mulla is not currently involved in the AVID program, she still has aspirations for what the program can become.
"When I used to tutor at Summer Creek High School, the AVID program there was the ideal vision of how I want AVID at AHS to become," Mulla said. "All the teachers there know what AVID is and support and encourage students to be a part of AVID. They do a lot of service projects that connect them to their community, such as Tiny House and cleaning up their school and neighborhood."
Along with this, she wants to provide students who have been involved in the AVID program all four years with a leadership trip to Disney World. She thinks this would be a great incentive for students to stay in the program all four years and not just sign up senior year. 
"AVID is really helpful senior year, but having that foundation from all the previous years is what truly helps prepare students for college and beyond," Mulla said. 
Students have a lot to gain from having Mayhall as an advisor. She is a passionate teacher who is willing to devote herself to her students. Along with this, she is understanding of the difficulties that students face.
"Some students think that you need to know what you want to do with your life in order to go to college, and that is just not the case," Mayhall said. "You're 18 years old. What the heck do you know? I didn't. I had a degree in photography and now I teach AVID and love the journey. I want my students to know that they have options; that they should constantly question and reevaluate. I hope to foster curiosity in students. You only have one life and you are responsible for it."
Mayhall still works with Mulla and sees her as a "wealth of knowledge" that she can confide in when it comes to AVID. She is focused on building a deeper connection with her AVID students and ensuring that they are getting the most out of their time spent in her class.
"It's important to be available to students and to show them that you love them and you support them, but you also have to hold them to high standards," Mayhall said. "That's something that's never going to change, whether I teach AVID or APUSH or anything else."