Comfortable and Classy
School is different this year for students and staff, and starting school online means new factors play into the age-old struggle: what to wear to school.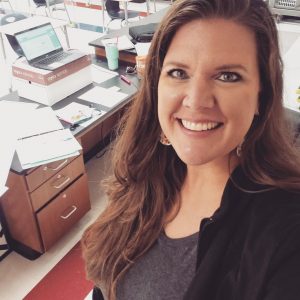 The ability to be on a screen without showing your clothing has changed some people's dressing expectations. Some are going more casual, while others are dressing to impress, despite abnormal conditions.
"I feel like first impressions are big," freshman biology teacher Ms. Lamb said. "I cared the same [about my clothing] as if I were meeting [students] face to face for the first day of school. I was excited to finally meet my students!"
While Ms. Lamb's jeans, shirt and makeup looked nice with the added benefit of being comfortable, she is returning to normal teaching attire as in-person school starts again, wearing jeans only on Fridays. Freshman Lauren Kern has also returned to in person school this past week.
"Yes, I'm back on campus, and yes, I'm dressing differently," said Kern. "I mainly stayed in sweatshirts for virtual class, but I'm putting in a lot more effort now that I'm going to school in person."
While Kern has returned to the school building, Alysa Blades is remaining online, along with many other students. She has been comfortably dressing for school and hopes to continue doing so as she stays online. She intends on dressing a little nicer, while maintaining comfort if she goes back to the school building. She will definitely be wearing a mask though.
"I will buy different masks with designs that go with what I'm wearing," sophomore Blades said. "I will do that because wearing a blue mask everyday will make me bored of the same look. Sometimes you have to switch things up."
Though some people are going to school online and some are going in person, we are all Eagles. Taking care of being sanitary and socially distancing will help us to be able to all meet together again in the future.
"I am excited [for this year]!" Ms. Lamb said. "I was worried and anxious at first but I just prayed about it and gave the situation to God. He is my protector. I am curious to see if cases will spike but as long as everyone wears a mask, socially distances, stays home when sick and washes their hands like crazy we should be good. This is going to be a great year despite the way 2020 started."