Celebrating Homecoming With No Dance
This year, Homecoming was a week dedicated to dress-up days and decorating the hallways for the underclassmen and upperclassmen. The theme of homecoming was "The Masquerade." Even though there was not a dance, students were able to have fun dressing up and voting for the homecoming court.
The homecoming court this year was freshmen Gabriella Garcia, Carly Hembey; sophomores Ileanna Reyes and Sophia Salinas; and juniors Aspen Edwards and Kailey Walker. The senior girls included Lauren Dumont, Grace Galvan and Zanyla Marshall and the senior boys were Freddie Allen, Cristian Garcia and Jalen Matthews.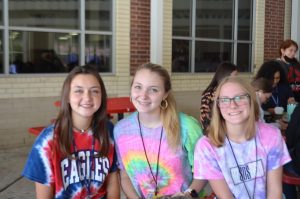 Zanyla Marshall was crowned the queen and Jalen Matthews as the king.
The dress-up days were: 
Monday: Wear your favorite meme or TikToker 

Tuesday: Wear tie-dye clothing

Wednesday: Represent your winning organization 

Thursday: Throwback Thursday

Friday: Show your spirit with AHS gear
For "Deck the Halls," each grade level hung decorations in their "house" to make the school look more colorful. Seniors decorated Red House, juniors decorated White House, sophomores decorated Blue House and the freshmen decorated Gold House.
Instead of having a pep rally in the gym this year, the school had a parade. On Friday morning, Students and teachers lined up along the parade route in front of the school to cheer with the band, ROTC, cheerleaders, Patriettes, volleyball team, football team and Homecoming court.  The Homecoming court was announced and the football captains asked everyone to cheer for the team. AHS won the game against Humble High School 66-0.