MCJROTC Overall Grand Championship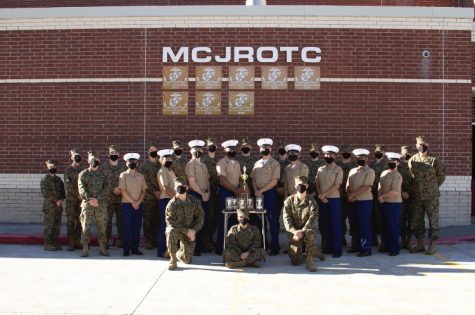 The
Marine Corps Junior Reserve Officers Training Corps (MCJROTC) program recently competed in a drill meet on December 5th, where they earned First Place Overall Grand Champion trophy. Participating in this event and earning this trophy is important to the program as a whole, and showcases the student's efforts.
"Earning first place at a competition is important because it proves that hard work and dedication pays off," Chief Warrant Officer 4 J. M. Lasyone said. "Furthermore, it improves the Morale of a unit and motivates others to perform at a higher level."
The cadets practiced diligently for the meet, ranging from academics to marksmanship. Drill meets such as the one at Brenham High School are beneficial to cadets and instructors alike. For cadets who want to pursue a future in the military, winning the trophy is not only a physical achievement, but increases their confidence in their skills.
"
A victory at Brenham demonstrates to the cadets that they are capable of earning their place as champions, but only through their dedication and determination," Cadet Sergeant Major Aiden Deshayes said. I have already set myself on a path into the U.S. Marine Corps, so winning at Brenham only increased my pride in my fellow cadets, and my confidence in their capabilities."
For the students, drill meets teach the importance of teamwork and the value of working hard. Skills such as these are not easy to teach, and are useful for growth. Even for cadets who will not go on to join the armed forces can benefit from the ROTC program and competitons.
"
This has impacted students in participating in a future with the military because it sets the kind of environment it will be in the actual military
," Cadet Second Lieutenant Taundalia Burgess said. "
This experience has motivated me to pursue a future with the armed forces and experience I've gained from the ROTC Program has had a huge impact on my decision to swear into this new lifestyle."
Winning the Overall Grand Champion trophy does not always motivate cadets to pursue a career in the armed forces. However, experiences such as drill meets serve as encouragement to students and increases their confidence.

Atascocita MCJROTC armed drill during their first drill meet of the season at Brenham High School. (Rita Lasyone)
Leave a Comment