Meet the Band Directors: Ms. Cook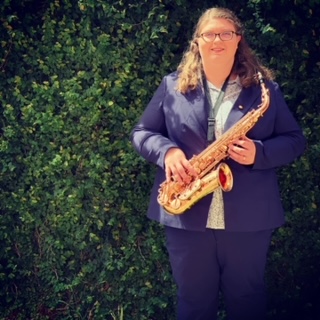 Haley Cook joined the band last year as a first-time teacher. She graduated from Sam Houston State University with a bachelor's degree in music education in May of 2020. She plays saxophone and percussion, and she studied vocal performance in college. She is the woodwind specialist and the Jazz band teacher. 
"My hope for the AHS Jazz Band is to have a few more performances, especially in the community," Cook said. "My hope for the overall band program is that it will continue on its path to excellence and that we will give the best musical education we can to every student that walks through the Band Hall doors."
Jazz bands are different from both concert and marching bands. They only include saxophones, trumpets, trombones, and drums. They also include a few instruments that concert and marching bands don't typically include, such as piano, guitar, and bass. They play Jazz music: Swing, Funk, Rock, Latin, Ballads, ect. As opposed to marches or classical music, which concert and marching bands play.
Leave a Comment