Shattered Dreams demonstrates dangers of drunk driving
According to responsibility.org in 2019, 3,468 teenagers drove under the influence of alcohol nationwide and 281 cases in Texas alone. It's not an astute observation to conclude that there's an epidemic of underage drinking and driving under the influence. Shattered Dreams aims to end that, or at least quell it, by illustrating the horrors of driving drunk and the ways it can wreak havoc on the ones you love.
The Shattered Dreams team unveiled its performance in the Gold parking lot on March 10. The production displayed an intoxicated student recklessly driving and crashing into a moving car.
"It was great being able to participate in Shattered Dreams this year," senior Emily Vega said. "I was able to help make posters that have stats on them, be part of the 'walking dead' who stood in the hallways with makeup on, and I was able to listen to the speakers we had at the overnight presentation."
From the actors to the makeup artists, everyone contributed to the production. The audio and visual production team were instrumental in making it a reality.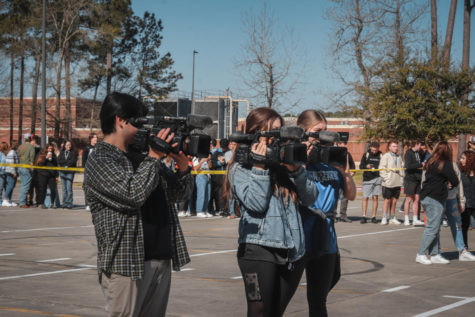 "Being able to watch the kids take everything that they've learned from class and put it into action is awesome," audio and visual production advisor Mr Mack said. "I help them get ready but once everything starts, it's all of them. The good thing is that I know I can rely on these students to get the job done and make everything look professional.
The A/V team stayed showed up to school around 8 a.m. and didn't leave school until Mr. Mack forced them to leave around 1 a.m. The AV students were committed towards the project and it was a way for them to showcase their talents as well.
"It was taking everything I know about filmography and using it in a fast-paced environment," senior Daniella Alfonso said.
From studying past Shattered Dreams videos to deliberating through music choices, the AV team did it all to create the right atmosphere.
"Witnessing the story unfold step by step has taught me, not only how dangerous drinking and driving is, but also just how draining the entire process of conviction is," junior Reagen Sells said. "It's important to me to convey the same feelings I had to those who watch the video."
The AV team wants to convey the same feelings to the audience.
"A lot of the students who do drink because it's cool don't dwell on the consequences of being intoxicated while behind the wheel," Vega said. "It's not cool to think about those things but I never thought it was cool to harm others because of your own reckless mistakes."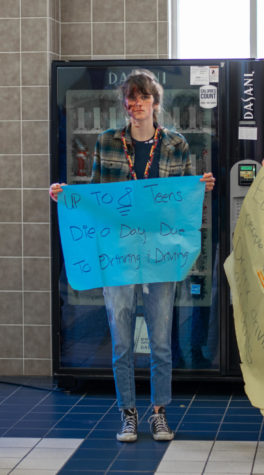 The members of Shattered Dreams believe if they're able to change people's minds, then they are sending the right message.
"It's not safe and people need to know that," senior Trinity Mayhew said. "It could ruin your whole life and shatter somebody else's."
The day after the demonstration, Shattered Dreams brought in Chuck Cornileous the District Attorney Investigator for Vehicular Crimes, Sean Teare Assistant District Attorney, Deputy Chris Cockrell, and Kristi Thornton who has experienced the effects of drunk driving first hand. Cornelius, Teare, and Cockrell spoke about investigating and prosecuting those who are involved in drinking and driving crashes. They also brought up the 2018 crash that led to the deaths of students Chloe Robison and Salma Gomez.
Thornton spoke about her youngest brother Caleb and his friend tragically passed away from a car accident in 2018. The accident was unfortunately caused by driving under the influence and speeding. In turn, her family created an organization #26forCaleb to celebrate his life by encouraging people to complete acts of kindness. She also created the Caleb Tripp Thornton Memorial Scholarship for high school seniors. You can find more information on 26forcaleb.com.
The AV team aims to release the presentation by April 28 and its available on their YouTube channel, Atascocita AV Production.
Leave a Comment