Go Eagles Go: Cheer prepares for the year
The cheer team has been practicing stunts and chants since last April to prepare for this school year. The cheer season begins after tryouts in March each year and ends with the next tryout.
At the end of July, they went to cheer camp in Galveston and brought home trophies for Best Incorporation and Best Pyramid.
In August, they hosted a cheer clinic for children ages 5-13. Participants learned chants, jumps and dances and then joined the cheerleaders on the sidelines during the Gold Fight Win game on Sept. 9.
Cheer holds practice every Monday through Wednesday, and occasionally Thursday, after school in the cafeteria. They practice to learn routines to perform in the pep rallys as well as lead the crowd to promote school spirit at volleyball, football and basketball games.
In addition to cheering at games, the cheer team will also compete in the UIL Spirit Cheer competition in January and UCA Nationals in February.
Cheerleaders are always on call to represent the school and to support athletics on campus.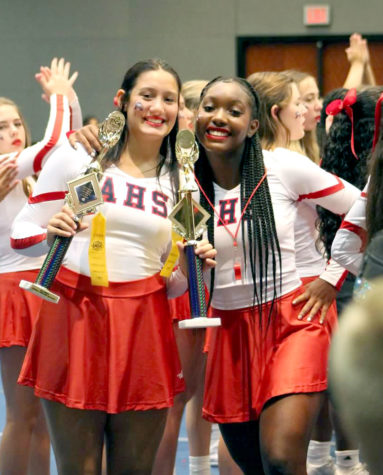 Leave a Comment