Teacher of the Year: Amaryllis Shaw
Why did you start teaching? Honestly, I never even wanted to be a teacher. I went to school for Electrical Engineering and Mathematics. In my senior year of college, I decided I didn't want to do that, but it was too late to change my major. I worked at Texas Instruments supporting their education products, and I traveled to different schools seeing teachers in action. I have always loved math, so I decided to become a teacher. 
What's your career goal? I'm actually doing what I love to do. Even though I'm grown, my parents still ask me if I ever think about moving into administration (principal, etc.), but I'm exactly where I want to be. My goal is to be in the classroom helping students become better critical thinkers, problem solvers and lifelong learners. And if I can convert a few "I hate math" students along the way, that's a bonus!
What's your favorite memory of the year? This is my fourth year at Atascocita High School, so my first students are now seniors. I just got my very first graduation announcement card from one of my former students. Also, winning Teacher of the Year.
What obstacles did you face and what did you do to overcome that? Coming back to school after 
COVID was tough. Students were not used to being in school and had missed so much. It's still hard. I just have to remember to meet the students where they're at while continuing to push them to where I need them to be.
Is there anything you would want to say about winning Teacher of the Year? Winning Teacher of the Year has been great. I love how so many of my current and former students come and tell me they voted for me. It really makes me feel appreciated and like I have made a difference.
Finalists are selected by the District Teacher of the Year Selection Committee based upon written application materials. Once selected, finalists are then interviewed by the Committee. During the Humble ISD Education Foundation Boots & Bling fundraising event on April 28, one of the finalists will be announced Elementary Teacher of the Year and another will be announced Secondary Teacher of the Year. One of the two will be also named District Teacher of the Year.
The Elementary and Secondary Teacher of the Year will both represent Humble ISD in the Region 4 Teacher of the Year contest that occurs over the summer. The 10 finalists are selected from 47 Campus Teachers of the Year.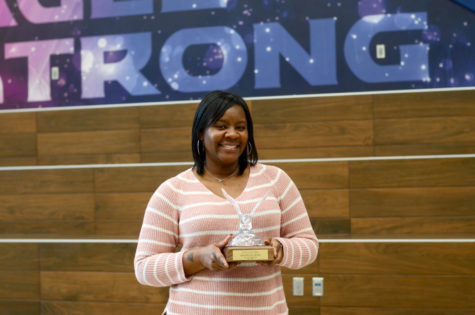 Leave a Comment