Fighting to win the Gold
On Sept. 13, the Atascocita Eagles faced rival Kingwood Mustangs in the first ever "Gold Fight Win" game at Turner Stadium. Since September is Childhood Awareness Month, Humble ISD dedicated a game to the children in an attempt to bring awareness and support to the children fighting cancer.
The game also raised money to be donated to children with cancer. Many local charities sold "Go Gold" t-shirts during lunches and at the game for $10 each and the ticket purchase money also was donated.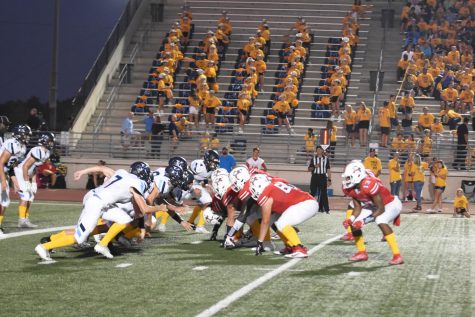 During half-time, the Kingwood band and Fillies performed, followed by the Atascocita band and Patriettes. At the end, the two rivals came together to perform "Fight Song," by Rachel Platten.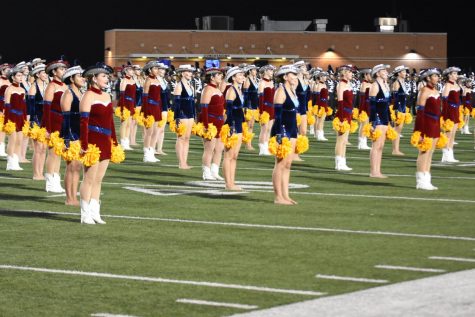 The football players were seen wearing gold socks as a show of support. The Atascocita Eagles won 70-10 but the score wasn't the important aspect of this game. This game was dedicated to the kids, who had been watching the game on television
"It meant a lot to me waving at the kids on Skype that were at the hospital," linebacker Avery Morris said. "It was also important to raise more money for the children."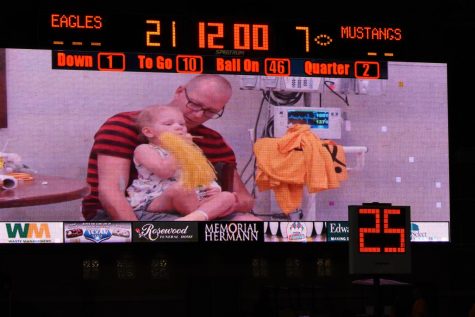 To anyone that came out to the game, bought a shirt, or in anyway came to support the children battling with cancer, this was more than just a football game to them it was a reminder that every moment is precious.
"The game meant to me that I have to play my heart out for those who can't, especially those who might never get a chance to," defensive tackle Leonard Randolph said. "Those kids are stronger and more brave than we will ever be."