Lady Eagles basketball get revenge on Summer Creek paves path towards making State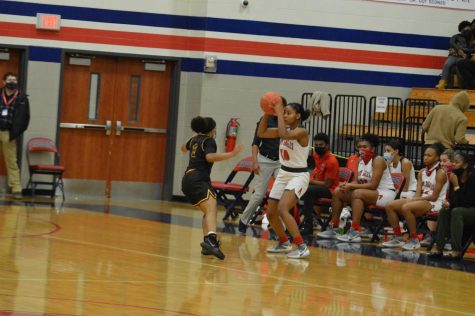 The Lady Eagles basketball team had big goals coming into the season and after their win against Summer Creek on Jan. 23, they are now No.1 in the district and are on their way to accomplishing their main goal which is winning the State championship. 
After going home in the second round of the playoffs last season the team used the off season to set goals and work hard for the next season. 
"One of the goals coming into the season was to continue to grow and learn from each game we play in order to become more adaptable," senior captain First and last name said. "I think that we are constantly accomplishing this goal due to the fact that we are always coming in ready to go and give whatever it takes to get the job done. This will, in turn, prepare us for our playoff games and help us to achieve our main goal of winning state." 
This year's team also has some differences from last year. This year the team is younger but that doesn't stop the Eagles from having an impressive 19-2 record and 8-1 district record and ranked one of the top girls' teams in the Houston area as well as the state. 
" "We are definitely getting stronger and working hard everyday to learn new things and correct bad habits," juniorKori Fenner said.
This year's team success did have some adversity early in the season. The team lost to another top ranked Houston team Summer Creek. In order to win district, the Eagles needed to win the second game on Jan. 23.
"The main adjustment was to play to our strengths," junior Blake Mathews said. "[The] Second time around we made Summer Creek play our style of basketball." 
Leave a Comment