Cross country varsity boys have a record breaking weekend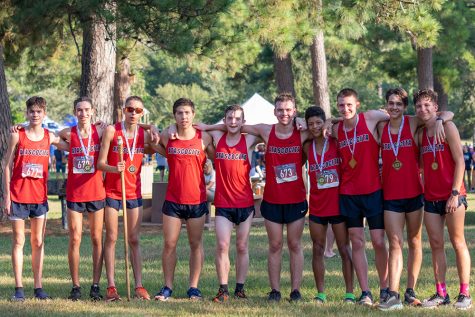 The varsity boys cross country team won the Spring Creek Relays on Aug. 14 at Spring Creek Park in Tomball. The varsity girls placed seventh, JV boys placed second and JV girls placed fourth. This meet was different from a traditional race as runners paired up in teams each running alternating one mile legs. 
The duo of juniors, Michael Archie and Oliver Maldonado teamed up and ran the four mile race in 19:07, a new meet record by three seconds. 
"It felt really good breaking the record," junior Maldonado said. "I think me and the team have a lot of potential for the season."
The team ran a 57:47 combined time beating the previous meet record by one minute and thirteen seconds. 
"I am happy for the guys; this is probably the best group we've ever had," Coach Symons said. "It's only the first meet and I don't want them to be satisfied." 
Results:
Varsity boys four mile relay team scores      
  Atascocita                 57:47        19:16            18

  Stratford                   58:59         19:40            13

  The Woodlands        1:00:10      20:04            15

  Tompkins                 1:00:11       20:04           1:18

  Bridgeland               1:00:49       20:17           37
Varsity girls four mile relay team scores      
  Stratford                    1:10:56         23:39          56

  Kingwood                 1:11:03         23:41          23

  Cinco Ranch             1:12:24         24:08          1:02

  College Park             1:13:03         24:21          1:27

  The Woodlands         1:13:29        24:30           21

  Bridgeland                1:13:38        24:33           3:30

  Atascocita                 1:15:05        25:02           3:21
JV boys four mile relay team scores               
   Tompkins                       1:05:55         21:59          1:03

   Atascocita                      1:06:34         22:12          2:24

   The Woodlands              1:07:29         22:30            42

   Bridgeland                     1:08:26         22:49          2:31

   Katy                                1:09:11         23:04            29
JV girls four mile relay team scores      
    Kingwood                1:20:22         26:48          1:10

    College Station         1:20:51         26:57          3:54

    Cy-Ranch                 1:22:37         27:33            48

    Atascocita                 1:25:58         28:40          1:27
Leave a Comment