Student Spotlight: Kam Dewberry
The job of an offensive tackle (OT) is protecting the quarterback. As simple as it sounds, containing a rushing defensive player is no easy task.
Senior Kam Dewberry is one of the best offensive tackle talents in his graduating class.  Rivals.com has listed Dewberry as a five-star prospect, the sixth best player in Texas, the third best OT nationally, and the 18th best player in the '22 class nationally. Dewberry being highly ranked has not gone unnoticed. He has amassed several scholarship offers from successful collegiate football programs. The University of Alabama, Texas A&M University, and Ohio State are just some of the eyes on Dewberry.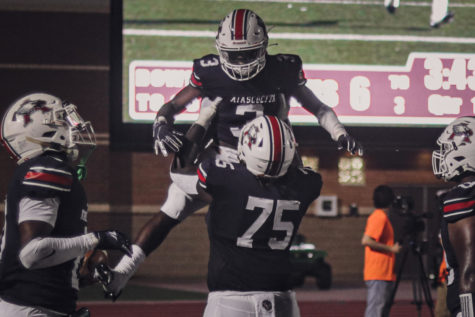 "My parents tell me you have to stay humble," Dewberry said. "You have to focus on your grades, school stuff like that. So as far as the attention outside of that, I keep the noise quiet and focus on myself. I just stick to my self."
Dewberry is not the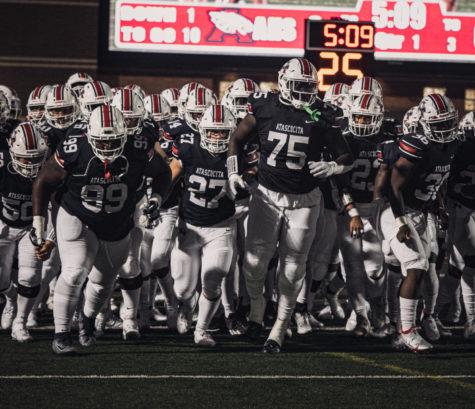 first star OT Atascocita High School (AHS) has produced. Sam Cosmi who graduated from AHS was a three-star prospect who would commit to University of Texas and just recently was drafted into the National Football League.  A more recent graduate in Kenyon Green was a five-star recruit who would committed to Texas A&M University.
"What Kam brings to the table that is different from those guys is that he has an understanding of football from a young age," offensive line Coach Todd Moses said. "He's big and he's strong just like they are. There are some comparisons but I think Kam's understanding of football puts him ahead of the game."
Dewberry is expected to make his college commitment decision some time early next year. It is up in the air about
where he will take his talents on the collegiate level but where ever he attends would be happy to have him.
Leave a Comment