Seniors reflect on importance of Team Tennis experience
Tennis is considered an individual sport. However, team tennis is the opposite. The goal of a team tennis tournament is to rally up more points than the opposing team. The players compete in individual matches and each win adds to the school's overall score. While players rely on their own ability to win their personal matches, the entire team comes together to achieve this common goal. As a result, players end up creating bonds and becoming one big family. Many of the graduating seniors have built memories through these competitions that will last them a lifetime.
"My favorite memory comes from my freshman year when we were waiting on the bus with other schools and one bus brought out a speaker," senior Simone Lucas said. "So all the buses started playing music while we were waiting to play. That has to be one of my favorite memories."
Many of this year's seniors have been on varsity since their freshman year. Very few have been able to achieve that during Coach Lowe's career. The closeness that developed between them will be missed by him. 
"Hopefully over the years the seniors have learned how we play together as a team," Coach Lowe said. "I hope that makes them better people in the long run."
Coach Lowe motivates the team by stressing the fundamentals and repetition. Because tennis is a sport of hitting shots the same way over and over every time, developing consistency is important.
"My biggest inspiration is my teammates and seeing them put forth the effort to become better players," senior Malia Kendrick said.
 Varsity is the only team that is able to advance to state playoffs. Because it's such an important competition, losing to a team that is not as strong is disheartening after all of the hard work the players put in. Coach Lowe hopes the team will finish in the top three at district and become a three-part bi-district champion minimum.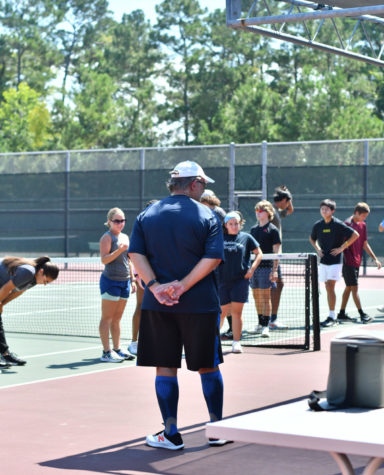 "Right now being the only coach can be overwhelming," Coach Lowe said. "I have learned to take a step back some days and be more relaxed with players, as in past years I stressed way too much."
Leave a Comment