Girls Swim Win First; Boys Place Second in Greater Houston Dual Meet Tournament
On the week of October 17, the varsity swim team competed in the Greater Houston Dual Meet Tournament, which spanned from Thursday to Saturday morning.
The girls got first place within their respective bracket, and the boys got second.
 "I was thinking we would swim well, and across the board, everybody stepped up," head coach David Pink said. "They were even more competitive-minded than I expected."
The tournament consisted of three rounds: one Thursday morning, another Thursday afternoon, and the final round on Saturday morning. Within each round, Atascocita swam a full meet, facing different teams from the Greater Houston Area. The boys' bracket consisted of Clear Springs, Klein Cain, Seven Lakes, Katy Taylor and Tompkins, and the girls' of Summer Creek, Klein Cain, Clear Springs, Katy Taylor and Tompkins. The girls defeated all of their competition, and the boys were second only to Klein Cain. Although they say the series of  meets is undoubtedly tough, the swimmers believe there are good things that come out of the busy competition.
"There is definitely a team-building aspect to it," girls' co-captain Kate Alley (12) 
said. "Enduring all these meets and 5:30 a.m. practices together is what makes us a team."
In the final round of the tournament, Alley won both the 200-yard freestyle and the 500-yard freestyle. Persevering through these tough moments that she mentions prepares the team for championship meets later on. Alley says the girls want to send one or more relays to the state meet. Boys' co-captain Chase Salling, who racked up numerous individual wins throughout the tournament and was a part of a record-breaking relay, also has specific goals he wants his team to achieve by the end of the season.
"We want three relays to state, no questions asked," Salling said. "We also want a lot of individual qualifiers."
Varsity Districts will take place on Jan. 20, followed by Regionals on Feb. 3 and State on Feb. 17. The team will try to channel their positive energy from successes like this last tournament, pushing themselves harder and faster at practice. Most importantly, they say, is that teamwork is key.
"The true heart and soul of what we do isn't all necessarily in the water," Coach Pink said. "Where we should improve the most is working together and setting goals as a team. I want to see kids with smiles on their faces at the end of the season."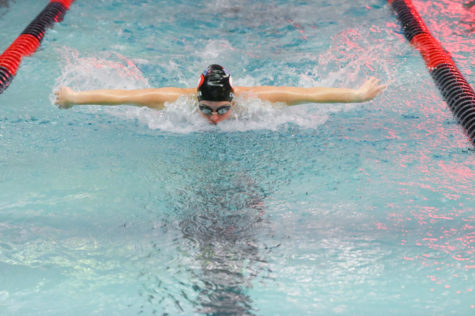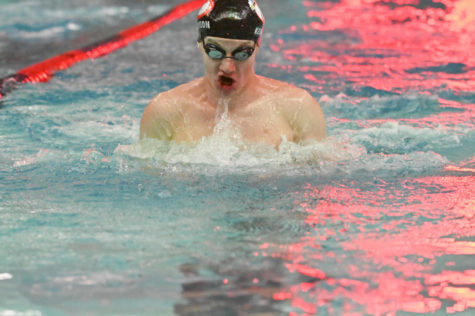 Leave a Comment