The Varsity Girls' Cross Country team has accomplished a feat never before seen in AHS history by making it to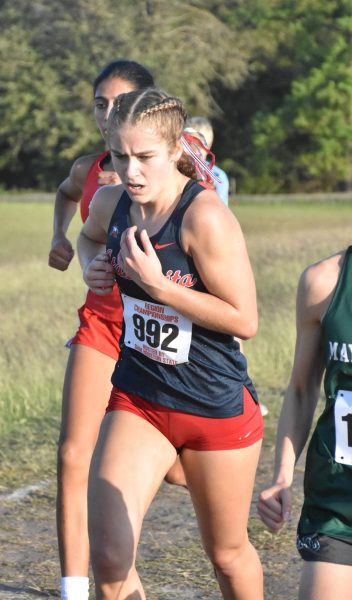 state. Cross country competed in Huntsville at the regional meet where every girl who competed placed.
"I am very excited the team made it to state for the first time in school history," boys and girls cross country coach Benjamin Schulz said. "The girls worked hard all summer to prepare for the Regional meet to make it to State."
Now, to prepare for state, the girls' main objective is to keep things training the same and maintain the same fitness level they've built all year. Coach Schulz would be very pleased with a top 10 team running at state.
"I personally love to be very vocal during their races and run around all over the cross country course giving instructions and shouting out encouragement," Coach Schulz said.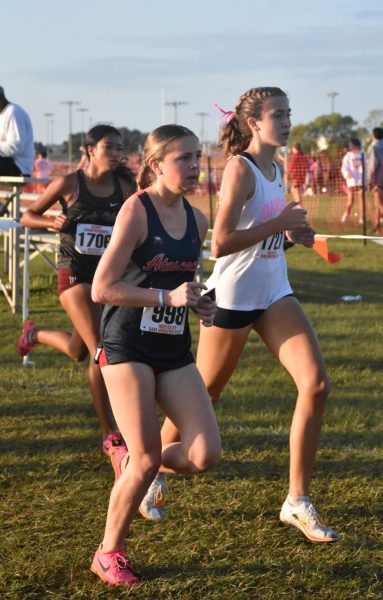 Senior Summer Call has consistently shown that she is a force to be reckoned with on the team, and now she has also made history by becoming the only cross country runner to make it to state all four years.
"I'm happy that my team can come along with me and I'm just ready to perform well at state," Summer said. "I just try to listen to my coaches and make sure that I'm doing the little things to make sure I'm ready."
Summer listens to a lot of Taylor Swift and Zach Bryan before races to motivate and pump herself up. The girls on the team bond by always having a pasta night the night before races, and they often hang out outside of practice.
"The girls are all close friends and do a great job supporting one another and holding each other accountable in practice and races" Coach Schulz said. "It has been a pleasure to coach them this season."
The team will compete at state on Nov. 4