Fine Arts fighting Covid-19
Thanks to Covid-19, many aspects have changed and with schools returning there are changes in order. Many organizations, clubs, and sports have been affected by this but have found ways to still do their activities for the year.
Band has decided to go to all home games at Turner Stadium and not go to away games for the safety of the band members and staff. With this in mind, the students have the option of participating for safety reasons. However, thanks to Covid-19 concerns a certain amount of students can participate.
"We will be separating the band into what is called two pep bands consisting mostly of seniors and juniors with the possibility of sophomores for specific instruments if necessary," band director Nicholas Luggerio said. "We will go to only Turner games and students will be able to drive themselves instead of riding buses."
However, Band is not the only organization adapting their activities. The orchestra is going to continue with activities as planned, just with Covid-19 precautions in place. Because not all students are at the school, they have had rehearsals during the school week and weekends to compensate for it.
"Having students online and on the A/B schedule is going to affect our rehearsals because we will not get to play as a full orchestra or even a full section. We will have to adjust when we finally do get to all play together," orchestra sophomore Campbell Lino said. "I believe we can do it, though, and we will overcome these obstacles. We have fantastic directors and great musicians that can adapt to anything."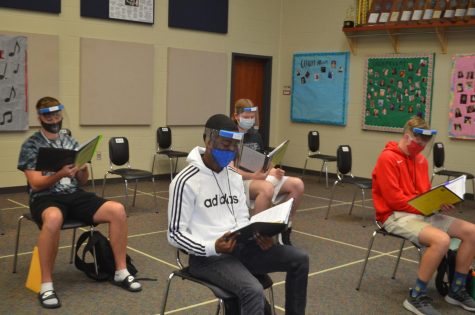 Additionally the choir, just like other organizations, have Covid-19 safety precautions which involve wearing face shields and being six feet apart. They will proceed with their fall concert and "Cabaret" but will not be able to do social events such as going on trips to an amusement park. Furthermore, they do not let this hinder them in any way.
"So far though, it has been fun getting used to the new choir environment. Our choir bond is really strong, so even if we are six feet apart we still feel close to each other," choir sophomore Narissa Nagee said. "I think that the kids who are 100% virtual will have to work harder to learn the material from home, but I think that they can do it."
The fine arts department continues to refine their schedule and make the changes with the best interests of students and staff in mind. Even with Covid-19, organizations are able to overcome obstacles and adjust accordingly.