Band Fall Mini-Concerts
In an effort to have some normalcy to the band school year, the directors, Mr. Luggerio, Mr. Hicks and Ms. Cook, organized outdoor Zoom concerts for every class period these past two weeks. The band classes are currently organized by instrument, with like instruments in class periods together.
For the concert, each class played a piece or two of music that they have been preparing for most of the school year thus far. The concerts were held outside of the band hall and all students from the class period, whether fully in person, virtual with UIL option, or fully virtual, were welcome to come and play as a group. The concert was live streamed on Zoom and the parents were able to watch their children perform. The band was a united front, as all participating stood together in red shirts bearing the AMB band logo, jeans, and black belts. 
There were challenges to the event. The concert was outside which meant that it was hot. Plus, the cafeteria was right behind the students, adding to the background noise as some of the class performances were during lunchtime. The use of Zoom for the concert meant that the concerts were easily accessible to people outside of the band, so the live streams were changed to a YouTube streaming service. Another challenge was the wind.
"I feel like the concert went well but we still have things we can improve on," freshman clarinet player Jessica Jordan said. "It was very different because we were outside and it was hard to see. We were fighting the wind and also we had to social distance and make sure we had masks on. It was a lot to juggle." 
The concerts have had good results, though, as all of the classes have been practicing their music for weeks.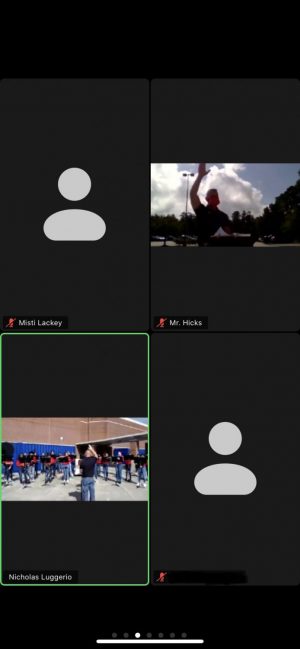 "I felt it went really well," Mr. Luggerio said.
The students prepared a variety of music for this concert.
First period:

The Magnificent Seven

by Elmer Bernstein

Second period:

La Peri

by Paul Dukas 

Third period:

Shenandoah,

an American Folk Song, and

Shake It Off,

by Taylor Swift 

Fourth period:

Sing, Sing, Sing,

by Louis Prima and

Uptown Funk

by Mark Ronson 

Fifth period:

The Magnificent Seven,

by Elmer Bernstein and

Shake It Off,

by

Taylor Swift

Sixth period:

Eine Kleine Drumusik,

by Tim Sivils

Seventh period:

William Tell Overture,

by Rossini
The concerts were held for different class periods on different days. Three classes had their concerts on Wednesday, Oct. 21. One was held Thursday, Oct. 22, and another was held Wednesday, Oct. 28. The final two concerts were held Oct. 29, a Thursday. 
Having an opportunity to come together meant a lot to band students.
"It made me realize that band won't be the same as it was in previous years," senior Cynthia Garza said. "I'm going to miss it a lot."
For many students, band is not just a class they are required to take, but a place where they make many friends and learn to take pride in everything they do. Seniors are beginning to realize the loss of traditional band activities in this school year, but the directors are trying hard to plan events, such as the mini concerts. The directors hope that these events will give students the opportunity to have some contact with their friends and as many memorable band experiences as possible.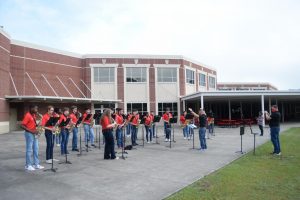 Mr. Luggerio, Mr. Hicks, and Ms. Cook worked hard to teach the band students the music for these mini-concerts. They taught them not only how to play the pieces of music provided, but also how to learn them. The students learned a step-by-step method for practicing and learning music by sections, which can be used not only on the music that was played in these concerts, but in any piece they are given.
New music is being handed out to students as preparations for the Christmas concert begin. The directors have decided that it will be an outdoor concert featuring the entire combined band on Dec. 8, with the rain check date being Dec. 9.
Practice and dedication put in by both the students and the directors made for impressive results in these mini-concerts and will surely show in the upcoming Christmas concert.
"With everything that we're dealing with, I'm very happy with where we are," Mr. Luggerio said.