So far, the varsity football team is 8-2. They've played all three district games and are about to start playoffs.
"I think the season's been going great," sophomore running back Cardae Mack said. "We've been putting in work and it's going to show at the end of the day. Our defense is young, but we all know we can fill the older guys' rolls."
Mack won team most valuable player (MVP) in the win against Katy. The win against Katy meant a lot to Mack. It was an uplifting moment and gave the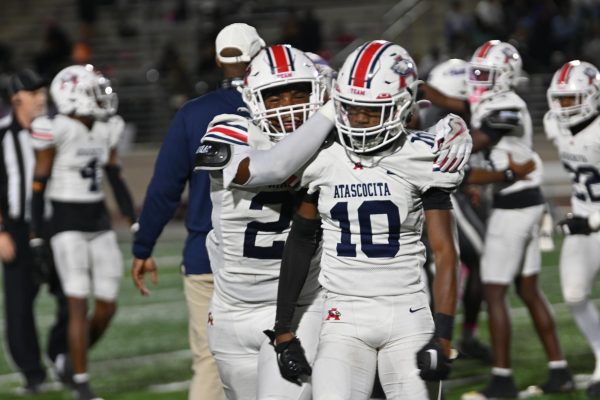 team more confidence for the rest of the season. He feels that they can win a state championship. 
"I think the season's been going well," junior defensive back Hunter Sowell said. "We're having a lot of fun playing with each other. I think we have a little more explosiveness on offense and we have a young defense."
Sowell won defensive player of the game in the win against East St. Louis. The win against Katy meant a lot to Sowell personally because his brother, who graduated in 2022, beat Allen for the first time a couple years ago. Although there are big games ahead, Sowell is only looking forward to playing teams in the playoffs. Sowell expects the offense to do great things and for the defense to improve over time for the rest of the season.
"We've had a great start to the season," offensive line coach Leonard Moses said. "We have a lot of guys that are showing a lot of leadership and they know how to win. Everybody works, but how committed are you to getting up every day and working hard?"
Moses and head coach Craig Stump have been together since 2006 and this is the first time they have beat Katy. Although Moses recognizes there are big games coming up, he only focuses on the next team they play. Some players that have stood out to Moses are Zion Brown, Tory Blaylock and Cardae Mack. A lot of schools claim to be able to win a state championship, but Moses believes that a state championship is not a far-fetched expectation.
So far, the team has had two losses against North Shore (61-35) and Summer Creek (43-28). They've also had wins against Dickinson (46-21), Katy (42-34), East St. Louis (43-13), Kingwood (61-7), West Brook (71-0), Beaumont United (78-0), Humble (67-13) and C.E. King (28-21) heading into the playoffs.