StuCo teaches "fish" how to show spirit; MCs try out
The first annual Fish Fry took place during 5th period advisory before the first pep rally. The Fish Fry is a preliminary pep rally to demonstrate to freshmen how to participate in pep rallies. Like any other pep rally, the student council organized it, and there were performances from the band and the cheerleaders. 
"I believe the Fish Fry went well, although some of the freshmen didn't seem to enjoy it," senior and student body president Maggie Romero said. "It takes away from the awkwardness of the first pep rally." 
Romero and the rest of the student council worked hard to create a pep rally experience. While freshmen get accustomed to the new culture, many of them disengage, believing it's embarrassing if you show a shred of excitement over school spirit.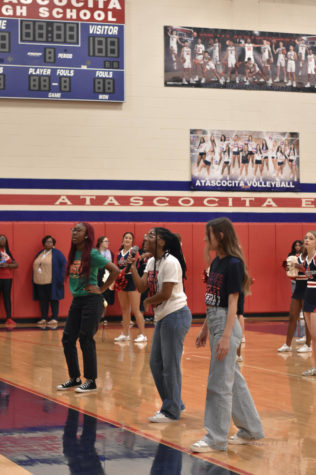 The freshmen were not the only ones getting accustomed to the new culture. Students wanting to be the pep rally MC had to try out at the Fish Fry pep rally. They signed up during their advisory class to perform in front of the freshmen, but some of the MCs found it difficult to hype up the crowd.
"Freshmen have that 'I'm cooler than you attitude,'" senior MC candidate Courtney Barrett said. "It was nice to see the crowd get excited and happy because of our words."
Considering an entire pep rally is 45 minutes, the candidates were confined to less than 30 minutes to hype up the crowd and prove themselves to be an effective MC. 
"It was really rushed," Barrett said. "But in positive words, it was fast-paced and enthusiastic."
While no two experiences were exactly the same, freshmen got a glimpse of what to expect at an actual pep rally. Some freshmen said it was an upgraded experience from their middle school days. 
"It was more fun," freshman Ja'Kalia Walker said. "It gave us a chance to know the chants before [the other pep rallies] so we don't mumble the words. You always see cheerleaders dancing in movies, and it's cool to see that you can actually do that in high school."
At the first pep rally, seniors Liberty Parham and Macey Collins were crowned as the new
MCs. The freshman section put up a good fight, rivaling the chants of the sophomores and juniors. But ultimately, the senior section was victorious and took home the coveted pep rally win.
Leave a Comment