Freshman Finds Success Creating Musically Inspired Art
She cannot remember a time when she wasn't drawing. It has always been a part of her life.
Freshman Cassidy Franklin is a daughter, a musician, and a friend, but she is also an artist. She is self-taught and mainly focuses on anime-style art. She sells her art online on Pinterest and her website, www.sporiginals.org. Her business is called Sydney Peyton Creations.
Franklin plays the clarinet in the band and made a TMEA All-Region band. She combines her musical talent with her artistic talent to create inspired illustrations.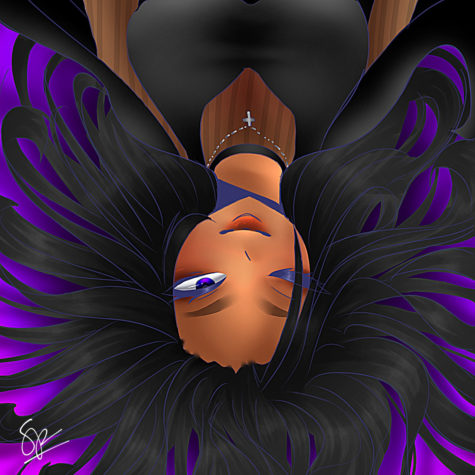 "Art is more visual, while music is more auditory," Franklin said. "Both can still be expressed, and they're just expressed in different forms. One can easily be converted to the other and they both still hold that idea. If you want to draw something sad, you can listen to something sad, and it also really helps if I'm drawing something. If I'm listening to something really sad and I want to draw something sad, it generally comes out better."
Franklin draws inspiration from expressive music, but she also finds herself inspired by other artists. She taught herself to draw through tutorial videos and continues to learn and improve as she grows.
"Even though I do try to stick with one art form, sometimes it's really fun to experiment with other art styles," Franklin said. "Because if it does turn out good, you can also incorporate those things into your current style."
Having a set art style has helped her to become better at other styles as well.
"When I first started out and I was still trying to find my art style, I tried to do a lot of realism, and I'm telling you right now, it sucked," Franklin said. "It was terrible. And then I got into anime, and I was like 'This is cool. I wanna do that.'"
Franklin said having that ability and advancing in that art style alone helps with different art styles. When Franklin draws for her business, she thinks through what her customers would want to buy.
"A lot of the time, I know that if I saw a poster and I was like 'Okay, there's this original character that this person made. But then here's my FAVORITE character,' I'd want to buy the one with my favorite character rather than an original character," Franklin said. "But sometimes if I can't think of a character that could fit for that kind of idea I'm going for, I'll make up a character and just go with it, because it's kind of what I do for fun."
People often recognize her skill, like the teacher who suggested her for this story, who noticed her sketchbooks in her backpack and admired her talent.
"Sometimes I'll be sketching in class and someone will walk up to me and tell me that I'm good at art," Franklin said. "Then they will ask me to draw them, so I do."
Franklin prefers traditional, or paper art, but has been working a lot to improve her digital art. Her parents are very supportive of her and help with her business.
"My parents actually run the business," Franklin said. "They're the ones who respond to the people if they're like when a commission is involved."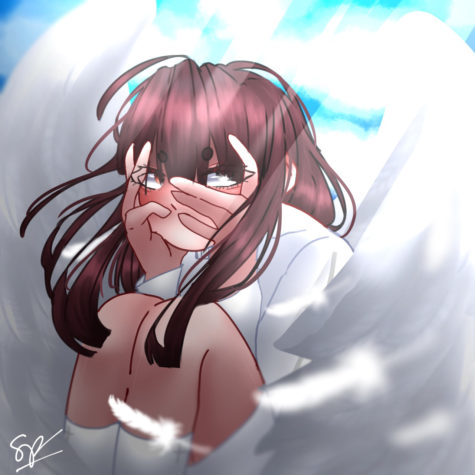 Her parents also take care of her supplies. She have lots of markers, especially Copics, which are pretty expensive. Her parents have always supported her art. Recently, she wanted to switch to a different drawing program on her iPad, and her parents purchased Clip Studio Paint. Support from those who care about her has fueled Franklin's talent and growth.
"I'm self-taught; I haven't taken any art lessons," Franklin said. "It took a lot of time, but I watched tutorials when I started out to get more of an idea of how anatomy works. I definitely did not start out very good at art, but with support from my family and my friends, I wanted to keep going. If they didn't support me, I wouldn't be this good at art."
She hopes to continue her business, but knows from her experience that it would be difficult to make it as an artist long-term. She has plans to continue in her passion, but be stable as well.
"I'll probably end up taking a major in psychology in college, and I'll become a psychiatrist and on the side do things with my music and my art," Franklin said. "If [the business] takes off and I start getting a lot of money from it, then I'll do it as my career, because I really do enjoy art"
Franklin's business name is her two middle names put together. She started it about two years ago, and would love to get the word out more. She uses it as a way to combine income with her passion.
"I've been doing [art] ever since I was little," Franklin said. "I cannot remember a time when I haven't been drawing. My parents would tell me a lot that I used to draw on the walls so much, and they'd have to clean it up all the time. And I'd just draw on all the furniture. Even though I had paper, I would still just draw on the furniture."
Leave a Comment