Groovy Times
Students celebrate Homecoming week with disco-themed activities
The week of Sept. 19-23 was homecoming spirit week. With a paint party, dress-up days, the powderpuff game, the tailgate, the HOCO pep rally, Party on the Patio, the game and then the dance on Saturday, the week was definitely busy.
On Sept. 16, students crowded the halls in gold house and down Main Street with paper, paint and snacks. They painted signs with the time and date of the Homecoming dance, anti-Kingwood sentiments and decorated the houses: Red House for seniors, Gold House for juniors, Blue House for sophomores and White House for freshmen.
The powderpuff game was on Wednesday at 5:30 p.m. The junior girls beat the seniors 14-12.
At the tailgate, there were food trucks and games. Many school clubs and organizations ran tables informing students of their club and supporting the school. The tailgate took place at the football field while the freshmen football teams beat Kingwood.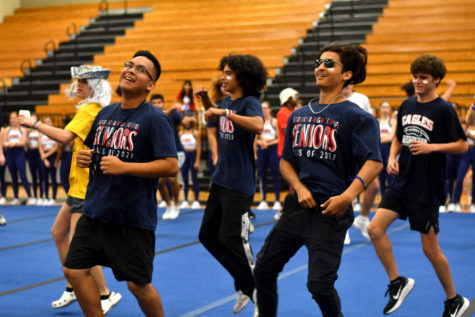 At the pep rally, Hailey Kiner performed the national anthem, cheer and the Patriettes performed, and the senior boys performed their senior boys' dance. Even when the music accidentally cut out, the boys rallied together to continue the dance until they reached the end. The seniors won the tug of war battle, and then the juniors won the class chant. The band played stand tunes, and welcomed Coach Stump to the floor with the special "Coach Stump" song. The football captains were seniors Jadon Ducos, Nick Cordova, Ian Ratliff and Kam Phoenix and they said a few words to the crowd.
At the Party on the Patio, students could purchase barbecue for lunch for $7. It served as a fundraiser for boys basketball. The food was made by Coach Brown and student council assisted by selling drinks to students for $1.
Kingwood was defeated 56-0 at the game on Friday, and the student section came to support with beach-themed attire. Choir sang the national anthem. Cheer led the crowd and the Patriettes performed to the song "Bang Bang" during halftime. The band played "Can You Feel the Love Tonight" while the Homecoming Court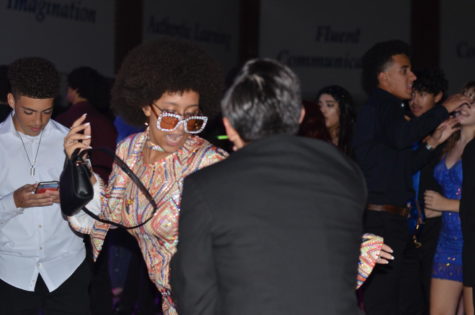 was announced, and then marched their drill after the game. ROTC formed two lines and held swords for the court to walk under during halftime as the names were called.
On Saturday, the Homecoming dance was held in the cafeteria. People met with their friends to hang out before and after, then went in groups, pairs or alone to the dance. In a flurry of glitter, music, dancing and noise, the week drew to an end.
View Comments(1)