Here we go again
Director brings musical to the stage
This year, the theatre department is putting together a musical in October that will be directed by Justin Vincent. As one of the three theatre directors, Vincent has been teaching since the school first opened in August 2006. 
Vincent wants students to know that anyone who wants to participate in the program at AHS is welcome to do so. Vincent enjoys working with students and sharing his passion for theatre with them. 
"The thing I most enjoy about being a director is seeing a show come together," Vincent said. "It is all due to the cast and crew realizing that the time has come that they need to focus and put in the hard work to go the extra mile to get a show ready for an audience." 
Vincent has been a high school director for 16 years. He also taught in middle school for two years and has two years of graduate teaching experience, where he was a professor's assistant at University of Houston School of Theater. Vincent decided to come to AHS for three main reasons.
"I wanted to move up to teach high school age students," Vincent said. "I was excited to be able to open up a brand new high school."
 He was asked by his own high school theater teacher, director and mentor, Rod Sheffield, to open the school with him and create the theatre department. He decided that he couldn't pass up the offer. But one disadvantage to being a high school director is that Mr. Vincent has to take time away from his family. 
"It is hard to explain to young children why you have to leave on a Saturday to go to work for a few hours and why you get home after they are already in bed some nights," Vincent said. "I miss special moments with them." 
Mr. Vincent knows it's all worth it in the end, and that also helps him deal with some other problems along the way of being a high school director. Mr Vincent also knows that being in the theatre comes with some criticism.
"The way I deal with that is to remind myself that I work extremely hard for many hours a week in order to ensure the success of my students," Mr. Vincent said. "When I see them enjoying theater, thriving and growing their passion for their art and working as an amazing team with so many others in the department, it makes all the criticism unimportant." 
The performances for "Mamma Mia" will be Oct. 13-15. The theatre department can only do a musical once every three or four years due to the cost and the grand production. Tickets are $15 and can be purchased online or by scanning the QR codes around the school and in the graphic above. 
"EVERYONE will love this show," Mr. Vincent said. "It really does have something for everyone: familiar music, fun dance numbers, memorable characters, a little bit of a mystery to it and of course some rom-com."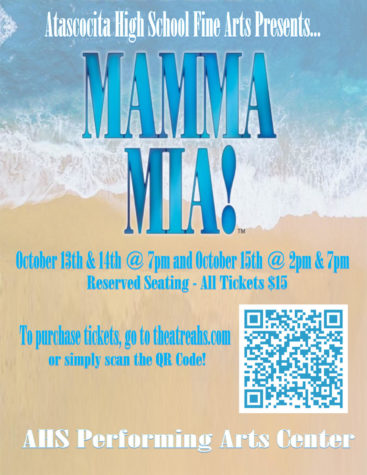 Leave a Comment