On the right note
Band adjusts to new school year
Faced with multiple challenges this year but coming up with solutions along the way, the band has taken what could've turned into a disastrous beginning of the school year into a testament to the hard work and dedication by students and directors.
In preparation for the first football game, the band practiced outdoors every Tuesday through Thursday since the first day of school. This year, they are led by drum majors Andrea Garcia and Jonathan Gomez, and under the direction of new director Brian Best, as well as returning directors Anthony Hicks and Haley Cook. Before school began, they met for four weeks of summer band. 
The percussionists participated from July 11-Aug. 5, doing not only the two weeks of full band and singular week of freshman band, but an additional week where they learned cadences and drum techniques. Guest teacher Lamar Burkhalter, who charted drill for the Astros' World Series Game, helped them to improve technique. They were also taught by last year's percussion specialist, Reese Foster.
During freshman band camp from July 18-20, freshmen were introduced to marching and music fundamentals, met their section leaders and learned band traditions and expectations.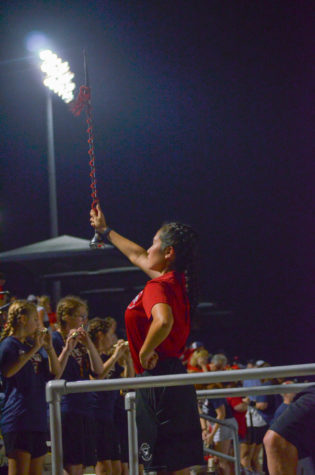 In the two weeks of full band, section members were introduced to each other, marching fundamentals and cleaning was continued and they learned their marching music. Masterclass teachers were also paid for by the band boosters to help students begin working on their region audition music, which they need to know by December. 
When school started, the band continued practicing the fundamentals, but also started preparing their on-the-field drill. In the first six practices, five were affected by lightning and the band had to move practice indoors. This set them back on their drill, but they utilized the time to practice marching music and learn a lot of stand tunes.
Uncertain of whether they would get any more practice in the Gold parking lot "field" before the first game, the band went into that week hoping for good weather, despite the stormy weather forecast that continued to be shown. They modified their schedule to include an extra Monday rehearsal in hopes of bringing energy and spirit to the game in support of the football team. 
While they were able to get some outdoor practice time and pull through on their halftime performance, the band faced another great struggle in the form of grades. Per UIL rules, the six-week grading period marks the infamous "No Pass No Play" eligibility check. Anyone failing stood to lose eligibility, and to make matters worse, the next opportunity to lose eligibility happens less than 12 hours before their UIL Regional Marching Competition. 
When the directors started checking grades, it became evident that over 90 people in the band were failing. This would devastate the on-the-field drill. The directors modified the practice schedule, leaving 50 minutes between school and practice for tutoring and schoolwork, and holding practice from 3:45-6 p.m. This also aided in lessening the conflicts between student council meetings, NHS meetings and practice.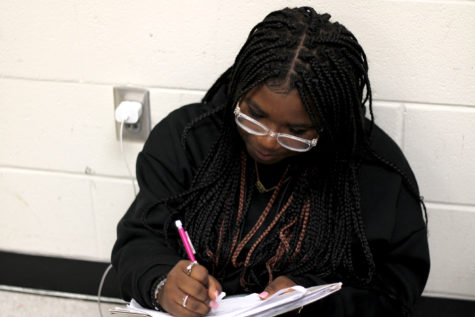 At least a week and a half of band class was designated "study hall" in an attempt to help students get the time they needed for tackling homework, peer tutoring and studying. Directors did all they could to help students by contacting parents and teachers, speaking to students directly, organizing a list of students willing to assist in specific classes, referring people to someone willing and able to help with classwork, and even helping students with their homework.
When the eligibility marks came in, the band had decreased the number of failing students to nine, meaning that more than 80 students were able to bring up their grades and the drill did not need to be modified. Some players who previously did not have a spot in the UIL drill were added to the block on Sept. 20. These players rose to the occasion, learning the bulk of their drill in one day. 
The band is learning the last stretch of their march for the Galena Park Marching Contest on Oct. 1. They are working together to continue supporting the football team and drill team during games. The band's motto is "Pride: 100% motivation, dedication, and self-discipline in everything we do." It is evident in the way they have pushed through these extenuating circumstances surrounding the beginning of the marching season that they take pride in their program and school.
Leave a Comment